Tweets of the week: Bachmann, ricin and knaidel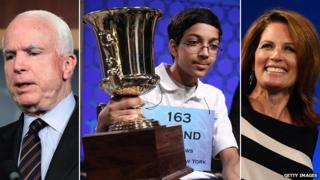 For the week ending 31 May, here is the news making waves in America - all in 140 characters or less.
1. Best wishes to @SenJohnMcCain in Syria today. If he doesn't make it back calling dibs on his office.
US Senator Lindsay Graham (@GrahamBlog) teases his colleague, Senator McCain, who made an unannounced visit to rebels in Syria.
2. I want to give this homeless man my loose change but I'm afraid he'll turn around and use it to buy Newsweek.
Humourist Mo Rocca (@MoRocca). The Newsweek brand was put up for sale again two years after it was sold, for a dollar plus liabilities, to stereo magnate Sidney Harmon. After Harmon's death, his family pulled out of the project; now Harmon's other partner, Barry Diller and IAC, is doing the same. Since the sale, they closed both the print magazine and the Newsweek.com website.
3. Hey could someone please put together a listicle of outrageous/false/zany Michele Bachmann statements?
The Atlantic's David Graham (@GrahamDavidA). Bachmann announced plans to step down from the House of Representatives at the end of her term. The Minnesota Congresswoman was known in part for her factually questionable statements, which news organisations were quick to jump on.
4. Glad Facebook didn't ban crepe jokes because I can riff on very thin pancakes for days.
Comedian Erin Gloria Ryan (@morninggloria) after the social networking site vowed to crack down on "gender based hate" speech including rape jokes and other sexist behaviour.
5. Dark days for Americans: China owns your bacon, Brazil owns your ketchup, Russia owns your Larry King...
The Wall Street Journal's Tom Gara (@tomgara). This week, a Chinese corporation purchased Smithfield Foods, the biggest pork producer in the US, and former CNN host Larry King announced a new show on Russia Today. Earlier this year, a Brazilian equity firm teamed with US investor Warren Buffett to buy Heinz Ketchup.
6. George Zimmerman has gained 100 lbs? Not the best visual for a jury when you're trying to convince them a skinny teen was kicking your ass.
National Review Online contributor Greg Pollowitz (@GPollowitz). Zimmerman, who is on trial for shooting to death unarmed teenager Trayvon Martin, appeared in court this week.
7. I prefer Walmart's pol pot.
Twitter user Cuffe (@CuffyMeh). Retailer JC Penney came under fire this week for selling a kettle that looked to many like Adolph Hitler. The ads featuring the kettle were removed, but not before it sold out online.
8. Just imagine how deadly that letter would have been if the USPS delivered mail in a timely fashion.
Comedian Erik Tanouye (@toyns) after a letter containing the poison ricin was delivered to New York Mayor Michael Bloomberg and one of his aides. A similar letter was also delivered to Barack Obama.
9. No self-respecting Jew would spell kneidel with an A. What a farce.
Yankees Sports Blogger known as "The Thought Leader" (@yagottagotomo) after a New York teenager won the US spelling bee by spelling "knaidel", a Yiddish word for dumpling. Critics have complained the word is better spelled with an E or Y.
10. Racists freak out over Cheerios ad with adorable interracial family. In other news, the internet is terrible.
Mother Jones writer Kate Sheppard (@kate_sheppard) after an ad for the breakfast cereal featuring a white mother and black father received thousands of hateful comments online.