Caption Challenge: Surf's not up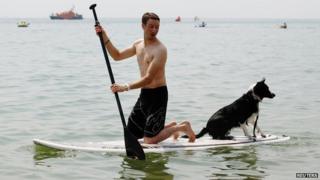 Winning entries in the Caption Challenge.
The competition is now closed.
This week a man and a dog in Brighton take to the sea during a heatwave.
Thanks to all who entered. The prize of a small amount of kudos to the following:
6. John Shields:
"I'm sure you threw the ball this way."
5. MukkaMonkey:
Scuba Doo.
4. Paul Tait:
"Don't you have a doggy paddle?"
3. CindyAccidentally:
"I've told you before, you're NOT allowed to chase catamarans."
2. AKA:
Tom wasn't convinced that the Drama Society's wardrobe mistress had ever actually read Life of Pi.
1. GrazValentine:
Hawaii Fido.
Full rules can be seen here
[16KB]