Caption Challenge: Herding cats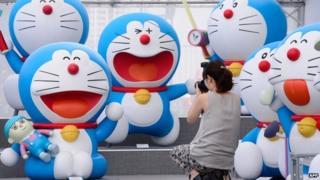 The Caption Challenge is now closed.
The winning six will be highlighted here soon.
There is still no prize, except the traditional small quantity of kudos.
This week, a journalist in Tokyo takes pictures of manga character Doraemon, a time-travelling robotic cat, during the press preview of the Fujiko F Fujio Exhibition.
6. Natalie Hansen
A Pussy Riot is about to break after the Parliament passes the "Cardboard Box" Tax.
5. Az Islam
Tokyo's award-winning disaster reporter finds herself caught in a cat-astrophe.
4. Phil Stubbs
Cat memes! cat memes? I've had it up to HERE with cat memes.
3. Paddy Flynn
The Japanese re-make of Goldfinger was doing so well until it came to the scene involving Pussy Galore!
2. Adrian Dixon
The Royal Baby's security team will be mainly working undercover.
1. Cameron
The breeding programme between Sonic the Hedgehog and Garfield went horribly awry.
Full rules can be seen here
[16KB]