Paper Monitor: It's a boy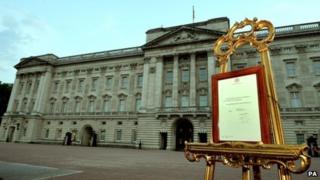 Apparently there's a royal baby. Who knew?
For most of Fleet Street, there is only one story in town today.
No, not mystery of how the remains of a 4m-long walrus was found underneath St Pancras station in London (although Paper Monitor was very much taken by that report in the Times).
Nor is it the Daily Telegraph's account (not yet online) of a sharp drop in UK wasp numbers (regular readers will be aware that the Magazine got there first yesterday).
Of course, it's the royal baby, news of whose arrival was announced at the newspaper-unfriendly hour of 20:30 BST.
Quickly, however, the decks were cleared, and months' worth of pre-prepared features were unleashed. In Paper Monitor's copy of the Daily Mail, the first non-baby-related story doesn't arrive until page 21.
The best front page is indisputably that of the Sun, which celebrates the occasion by renaming itself the Son.
Reliably, the Telegraph revels in the occasion, too. It proclaims that the House of Windsor is "a dynasty renewed".
Not every paper goes to town on the story. It shares the front page of the Guardian with Ed Miliband's plans to change Labour's links with the unions and that of the Independent with the prime minister's war on internet pornography.
The Daily Mirror evidently has a tricky coalition of readers to keep happy. Its splash proclaims a "souvenir edition" and there is an eight-page supplement inside to satisfy all those whose appetite for royal coverage knows no bounds.
But on behalf of another wing of the paper's constituency, columnist Brian Reade describes how the wall-to-wall coverage makes republicans like him "empathise with the Duchess during her morning sickness phase as the urge to vomit isn't easily suppressed".
That's what walruses and wasps are there for, Brian.