Paper Monitor: In the vegetable aisle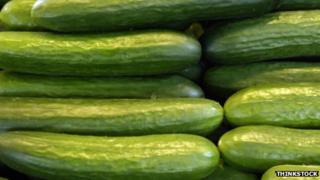 In other news today…
The Private Eye cover gets to the nub of it in three words: Woman Has Baby.
Which allows one to move swiftly on to the really big stories of the day. Like cucumbers.
The Daily Telegraph relates the tale of the "phantom cucumber dropper" on the loose in West Hampstead.
Cucumbers - 36 to date - have begun popping up in random parts of the north-west London barrio. "Just found this cucumber in the bush outside our flat. No joke - whose is it?" tweeted local resident Alice England.
The Telegraph picks up this quirky, almost gherkiny - sorry - story from the West Hampstead Life blog, which has been chronicling the various sightings.
The identity of the guerrilla vegetablist remains a mystery. But Twitter user AndyGu3 thinks he might have cracked it. "Bizarre sight of the day - a chap in a suit purposefully dropped a cucumber on the platform at West Hampstead Thameslink this am" he writes. The sinister figure was tanned, "fairly short" and had "jet black hair". Doubtless the local constabulary have deployed sufficient resources to cracking the case.
The story has prompted spluttering from locals after the Independent confused the area with grander Hampstead on the other side of the Finchley Road. One colleague of PM let out a shriek on discovering that the cucumbers were not organic and are sheathed in plastic.
And finally on to the Financial Times, which along with just the Indy, avoids a front page royal photo. The paper chooses a picture of the Bank of England's ornate doors.
On page two it provides a "back of a cigarette packet guide to the effect of the new prince on growth and Britain's economic fortunes".
On the plus side, by not triggering public holidays, the royal birth "has no obvious negative repercussions". But the paper has a bone to pick with those citing feelgood factor spending. It might simply offset a decline in other spending. The same goes for a baby-related product boom. So what's the answer?
The best we can hope for is a 0.06% GDP rise. "We shouldn't look to the prince for a recovery," it concludes.
Of course that won't stem the tide of rolling news coverage enveloping the nation. Batten down the hatches chaps, we haven't even had the name yet.
More cucumber, anyone?