Caption Challenge: Wet wedding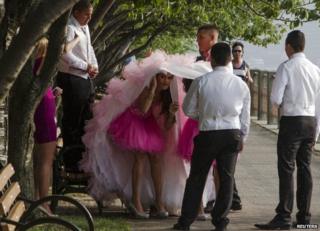 Winning entries in the Caption Challenge.
The Caption Challenge is now closed.
This week, a wedding party takes shelter during a sudden downpour.
Thanks to all who entered. The prize of a small amount of kudos to the following:
6. Georgie:
Quick! Hide! She's become a Bridezilla!
5. Franc Bolero:
Darling, it's just tu-tu wet.
4. Valerie Ganne:
Well, your mother shouldn't have said my bum looked big in it.
3: Annie:
See? I knew we didn't need the marquee.
2. Flo Ashbee:
"Typical, you try and take a nice wedding photo and then some jogger in sunglasses comes along and ruins it."
1. Nick Rabin:
When I said I wanted a wedding shower...
Full rules can be seen here
[16KB]