Paper Monitor: I quit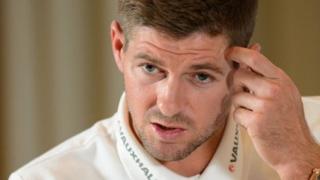 Paper Monitor happens to be aware of the fact that England are playing Scotland this evening.
So one finds oneself idly perusing the Daily Star.
"I'm jacking in my job," screams the back page, accompanied by a picture of England captain Steven Gerrard.
"Gerro: I'll quit 3 Lions after Brazil," says the subheading, in a reference to next year's World Cup.
And the actual quotes from said footballer? "I've got to assume it's my last year. I can't assume I'm going to be here in two or three years' time."
Interesting. By that calculation when Paper Monitor says "I'm not sure I've got enough cash with me to go to that nice deli for lunch" it can be headlined as…
"I'm skint" and "Paper Monitor forced to starve".
Hat tip to a rival: Football 365's Mediawatch