Paper Monitor: The greatest mystery of the cosmos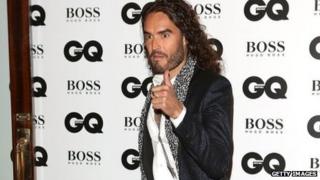 Our first port of call is the Daily Telegraph, for no other reason than the weird semi-wraparound ad it has for HSBC.
It's a two-layer thing superimposed over the left-hand side of the front page. Striking.
Over to the Daily Mail, where there is more than a whiff of irony.
Jan Moir is concerned about Russell Brand's purported relationship with Jemima Khan. "The greatest mystery of the cosmos - what DO women see in him?" the piece asks.
There's some lovely purple prose here. Brand is a "seedy pirate on annual shore leave". Khan has ignored the fact that "Brand has Totally Toxic stamped through him, like gothic letters inside a stick of rock".
Then she starts to get positively poetic. "A ribbon of conquests flutters in his wake like a tattered flag of hollow victory."
And even better. "He is like a combine harvester in a ripe field of gorgeous girls, pedal to the metal, never stopping to think about the future or the past."
Ooh-er. Paper Monitor feels the need to resort to some Bach Rescue Remedy.
This week's supremest of ironies award goes to Grazia magazine. Yes, it's not the daily press but permit us to digress for a moment.
The front cover has a paparazzi picture of Katie Holmes in the street with the headline: "Katie's Horror: Who is having her followed?"
Er, we're no experts but the answer seems obvious. A cynic might say: "It's you Grazia. You're having her followed. By paparazzi."
A cynic might say that.