Paper Monitor: Magnificent men in their flying machines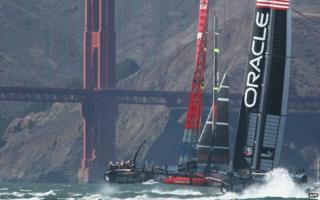 The Magazine's token Kiwi is sobbing into her ginger crunch.
Unthinkingly, Paper Monitor bounded into the office, merrily waving a stack of newly-inked newspapers under her nose. On top was the Times, with a big photograph of Team New Zealand and Oracle neck-and-neck under the Golden Gate Bridge.
Followers of off-shore yachting - or of British Olympian Sir Ben Ainslie, or of New Zealand - will know that a tightly-fought America's Cup race has been played out in San Francisco. On Wednesday, the Americans completed their comeback from being 1-8 down last week to scoop the trophy. Hence the photo.
The Times notes that the world's sixth-richest man - Larry Ellison, Oracle's billionaire backer - blew out 60,000 people who had flown in from around the world to hear his keynote speech at his company's sales convention. "He was busy watching his boat."
To further rub salt in the token Kiwi's wound, the Times has a sidebar on other comebacks:
Football: Liverpool v AC Milan, 2005 Champions League final
Golf: Ryder Cup 2012, Europe trailing 10-4
Cricket: England v Australia at Headingley in 1981
Rugby: France v New Zealand, 1999 World Cup semi-final (spoiler: it wasn't the All Blacks who came from behind)
And the Daily Telegraph eulogises Sir Ben, super-sub tactician for the American team, and the America's Cup itself, first raced in 1851, in which "72ft catamarans [scythe] through the air at 50mph across San Francisco Bay". (You can watch Team NZ near-capsize here.)
"It's the oldest trophy in sport, but chances are until a week or so ago, you might never have seen a single minute of it. That was before the heroics of Sir Ben, better known to the New Zealand press as 'Awesome Ainslie: Swashbuckling English Knight of Water and the King of Comebacks'."
And - ooo! - a #thingIdidntknowlastweek: "an estimated 2.8 million of [Britons] now own boats - more even than caravans".