Paper Monitor: Purr like a princess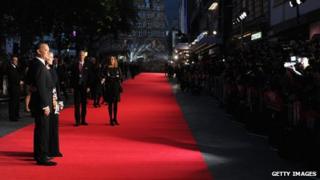 Once in a while the critics emerge blinking onto the news pages.
These days, a big first night or premiere is very much news.
It is the critic's red carpet moment when they're allowed out of the dusty arts pages to address a wider public.
Many of today's news sections review Paul Greengrass's Somali pirate movie, Captain Phillips, starring Tom Hanks, which opened the London Film Festival.
The Times and Guardian give it four out of five. "A ruthless thriller that brings high tension to the high seas" writes Wendy Ide.
Peter Bradshaw calls it an "unbearably tense highjack thriller" and a "two-hour anxiety attack that only a movie by Paul Greengrass can provoke."
The Indy gives it just two stars. In the end it is "another story about a heroic American held captive by villainous 'others' whose back-story the film-makers aren't much interested in investigating," writes Geoffrey Macnab.
Page five of the Mail has a different piece of culture in its sights. Quentin Letts - who also has a paean to skinny dipping later in the paper - reviews The Light Princess, a musical by Tori Amos.
Letts awards it one star. The 1970s motoring analogy he employs could not be any more damning. "Not since the dying days of British Leyland and its Austin marque has the word 'Princess' been applied to quite such a ropey vehicle."
Ouch. But wait, there's more. The last sentence reads, "And Marina Warner's essay in the programme deserves to be reprinted in full in Private Eye's Pseuds' Corner column."
Meanwhile the performance garnering the best notices in the Sun, is the chap who disrobed on the runway of Manchester Airport.
A helpful picture gallery guides the reader through the dispute.
The man, dressed in shorts and T shirt, is first shown confronting an official at the bottom of the steps. "Landing gear…T-shirted passenger on runway," explains the caption.
By the next picture he is down to what look like black speedos. "Take off…he launches rant in just pants." The third pic is captioned: "Undercarriage…he stands naked beside jet."
In the last photo his modesty is maintained by a strategically placed Easyjet plane as a woman "moves in to slap flier".
And the denouement? Enter Greater Manchester Police stage right bearing a taser and a fixed penalty notice.