Caption Challenge: That's not a real moustache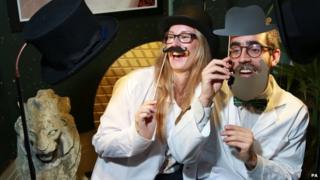 Winning entries in the Caption Challenge.
This week some people pose in masks.
Thanks to all who entered. The prize of a small amount of kudos to the following:
6. Corrina:
Hasbro brings out a variation of their popular 80s game aimed at lovers of facial hair: Trivial Hirsute.
5. Rob Falconer:
Having dealt with their pet lion, the Medusa turned her attention to the two party-goers themselves.
4. Becky Davidson:
Trivial Hirsutes.
3. Skarloey Line:
Crimewatch denies budget cuts are affecting its reconstructions.
2. Franc Bolero:
You're frightened? That lion's petrified.
1. Cindy Accidentally:
Eight out of ten lions said their owners preferred whiskers.
Full rules can be seen here
[16KB]