Caption Challenge: Kangaroo course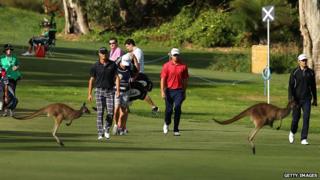 Winning entries in the Caption Challenge.
This week two kangaroos interrupt golfers at the Perth International golf tournament.
Thanks to all who entered. The prize of a small amount of kudos to the following:
6. Lin Vegas:
Caroline had sent Rory a pair of new jumpers as a parting gift.
5. Lewis:
"So Bruce, maybe you should have spellchecked that ad for new club members?" "What, the one for Jack Nicklaus wannabes?"
4. Dave Regan:
"What's that Skip?" "There's a ball stuck in a hole and it can't get out!"
3. Robanddav:
"You always have to go one better. I hit an albatross at the last hole and you hit two kangaroos at this one!"
2. Michael Horn:
"How far is it Dad?" "I don't know, but it's a fairway".
1. MorningGlories:
They come from the sand down under.
Full rules can be seen here
[16KB]
Follow @BBCNewsMagazine on Twitter and on Facebook