Paper Monitor: Remembering Lou and I...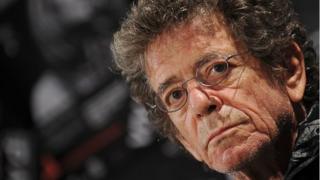 Interviewing a prickly legend. And the race to "remember" it.
It's with more than a tinge of sadness that Paper Monitor adds its voice to the masses bidding adieu to rock star Lou Reed.
But how nice it is that there are two things upon which newspapers can agree.
The first is that Lou Reed, who died on Sunday, was hugely influential - even if, judging by the song-pun-testometer, his only hits were Walk on the Wild Side and Perfect Day (although first recorded in 1972, it became a hit in 1997 as a star-studded charity single).
"You gave us many perfect days, Lou," says the Metro. "He walked on the wild side," explains the Daily Mirror.
"Not such a perfect day," says the Guardian, in slightly worse taste.
But perhaps the Guardian is still smarting from the 2003 experience of journalist Simon Hattenstone, which it helpfully re-premotes online.
Poor Hattenstone's description of meeting his idol is the equivalent of watching car-crash TV. Or maybe like reading a script of The Office. Painfully awkward.
"Reed makes me feel like an amoeba. I want to cry. Look, I was a huge fan of yours, I say. 'Was?' he sneers. I still am, I say, but I'm less sure by the second."
But this wasn't a one-off.
Will Hogkinson in the Times describes interviewing Lou Reed as the "music journalist's rite of passage: The Lou Reed Treatment."
"'That's a rather pubescent question, don't you think?' he said, eyes hidden behind shades, in response to an innocent inquiry about the Velvet Underground. 'Who the hell do you think you're talking to?'"
Everyone, it seems, is in the game for taking a trip down this particular memory lane. There appears to be a race on for anyone who's ever interviewed Lou Reed to "recall" or "remember" it.
The Daily Telegraph goes back to two - a 2007 interview with Mick Brown called "Iron glove, Velvet fist", and a 2011 Neil McCormick interview about Reed's collaboration with Metallica.
The Mirror's Gavin Martin writes about "The day I interviewed Velvet Underground's auteur".
Melinda Newman on the website Hitfix also doesn't pass on the opportunity for "Remembering Lou Reed: My scariest interview", while working for Billboard.
It's nice to see journalists agree that they should be the centre of the story.
Follow @BBCNewsMagazine on Twitter and on Facebook