Caption Challenge: 'Beefy' Botham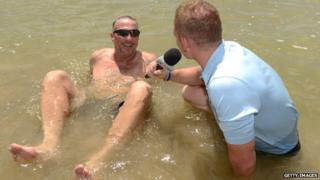 Winning entries in the Caption Challenge.
This week Sir Ian "Beefy" Botham is interviewed as he relaxes in the sea during a charity walk - Beefy's Big Sri Lanka walk 2013.
Thanks to all who entered. The prize of a small amount of kudos to the following:
6. Dave Norton:
"Could you give a description of the man who stole your pedalo?" "Tall with a thick Lancastrian accent, accompanied by a faint smell of booze."
5. Simon Hamlyn:
"I have to say, Sir Ian that you do disguise your googly very well!"
4. Ashley Davison:
Is it flotsam? Is it jetsam? No...it's Botham!
3. Adrian Wade:
Interviewer: Mr Botham, do these waters have rejuvenating powers? Beefy: That would be the Lourdes Test.
2. Cindy Accidentallyl:
"Er, Ian, when the lads said they needed an extra fielder to go deep, backward and silly..."
1. Siv Angel:
"Warnie told me it would cleanse and revitalise my pores for a glowing and radiant new me."
Full rules can be seen here
[16KB]
Follow @BBCNewsMagazine on Twitter and on Facebook