Tricks to stop your poppy falling off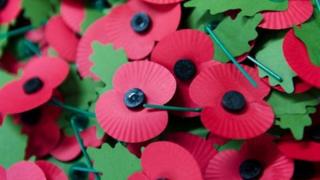 Millions of red buttonhole poppies are being worn to mark Remembrance Sunday all over the UK. But is there an art to keeping them in place, asks Vanessa Barford.
Every year there's a debate about poppy-wearing etiquette. Should you wear one? On the right or left side? What date do you start?
But for some of the poppy-wearing contingent, there's a more pressing problem.
How to stop the poppy going Awol.
Lapels with a handy buttonhole are an advantage, according to the Royal British Legion's How to Wear Your Poppy video. "If you are a civilian, make sure your poppy is always close to your heart, by wearing the poppy on your left lapel, or left side of your body," it advises.
Which is good news for those that regularly wear suits and jackets, but not so helpful for the casually-attired community.
For people that have to rely on their pinning skills, the charity has another tip.
"Many people think that starting the pin from the inside of the material and then going out and back in is the best method. This allows the barb on the stem to catch onto something, holding the poppy securely," a spokeswoman says.
But there are some items of clothing people don't want to pin.
"I've got a waterproof coat on today - there isn't a buttonhole and if I put a pin in it they'll always be a gap," says Heidi Hinder, an expert in product design at Birmingham City University. "We need a poppy for all seasons."
Hinder says using a small adhesive double sided velcro sticker on the back of the poppy to keep it in place could be a low-cost solution.
Of course the traditional paper poppy isn't the only poppy on offer. There are larger silk poppies, stick-on poppies, small metallic lapel badges and sparkly brooches that people can buy as an alternative. There are even wristbands, cufflinks and T-shirts.
And there's always the Blue Peter approach. People can make their own poppy and give a donation to the Royal British Legion.
Follow @BBCNewsMagazine on Twitter and on Facebook