Paper Monitor: Ad hoc news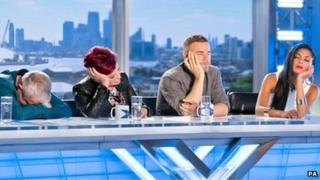 A newspaper story about what people are saying about what an ad break says about a show.
The future of journalism is too big a subject for this humble column. But the lead story on page three of the Sun is one possible future. "Xmas Factor: Sagging series blown away by festive ads."
The news in it is hard to pin down. It's about what celebs and civilians have been saying on Twitter. Not about the show itself but about what the ad break within it says about the show. Okay, it was a special ad break, with John Lewis, M&S and others launching their Christmas adverts. But still...
Lord Sugar tweeted: "Best bit of X Factor so far is the John Lewis advert." He added: "But have not got a clue what they are trying to sell."
Danny Baker's daughter Bonnie (okay, "celebs" is a fluid term) posted: "Officially. The adverts are better."
One viewer, Peter Vahl, wrote: "Shows how good X Factor is, everyone seems to be talking about the adverts #xcraptor".
To ram home the point, the Sun runs a spoof picture of the John Lewis cartoon. The real ad features a hare buying a bear an alarm clock to stop him hibernating.
In the Sun's version it is Simon Cowell interacting with the bear. "Can you sing?" asks Cowell's speech bubble.
"Wake me up when it's over," yawns the bear.
In a nice postscript, @JohnLewis, a university professor in Virginia, US, was inundated with approving tweets about the advert. One fan said the ad was a wonderful mixture of "nostalgia, sentiment and a great story". He replied: "I am a perfect combination of those things, but you probably meant the store."
Follow @BBCNewsMagazine on Twitter and on Facebook