Caption Challenge: Man drags tree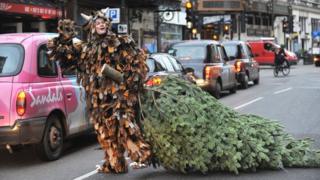 Winning entries in the Caption Challenge.
This week it's a man in a costume, dragging a Christmas tree.
Thanks to all who entered. The prize of a small amount of kudos to the following:
6. Jeffrey Pinner:
"A Maurice Sendak Christmas Carol" debuts in London.
5. John Ledbury:
"I was going by train, but they wouldn't let me on, wrong sort of leaves apparently."
4. Paul Walsh:
Hey, creature, leaf those twigs alone...
3. Adrian Wade:
"Not OK" - Lumberjacks Anonymous to picket Python reunion.
2. EmmaP:
After gate-crashing the local garden centre Christmas party, reveller gets coat and leaves.
1. Teresa Hatcher:
If this proves to be popular, there could soon be branches in every street.
Full rules can be seen here
[16KB]
Follow @BBCNewsMagazine on Twitter and on Facebook