Paper Monitor: Where to get those presents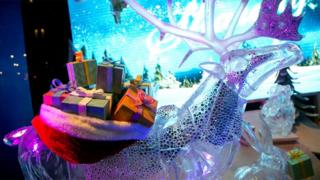 Today's edition of Metro dedicated 14 pages to provide their readers with "140 inspiring gift ideas" for Christmas. While these potential presents might not strictly speaking be "inspiring," some are surprising.
First of all, this gift guide goes beyond the basic "gender" and "age" criteria that are traditionally used to choose the ideal present. Rather it is divided in more "thought through" sections with catchy headlines. "Unleash their inner culture vulture," writes Siobhan Murphy on page 47 to present her selection of "cultural" gifts.
"Give them something to challenge their artistic side while enhancing their cultural knowledge," she writes.
It is unclear though whether or not the "Barbican Pop Art clock" or the "ketchup dispenser" featured on the page will actually do the trick.
Meanwhile, another page is entirely dedicated to "animal lovers" featuring for instance a "Man Candle, 'To Bring Out The Dog In You' - this basil and coriander scented candle 'could well be man's best friend for Christmas'," writes Vicki-Marie Cossar. But there is also the possibility to choose a cushion representing "exotic, whimsical owls", ie owls that have deer-antlers. Right. Think we're following you.
The interiors gift page is aimed at offering a guide to gifts that will "help someone to make their house a home." The choice might be difficult between a metallic blue skull speaker and a glass chandelier with beaded droplets "for instant glamour".
Follow @BBCNewsMagazine on Twitter and on Facebook