Caption Challenge: Turkey crosses road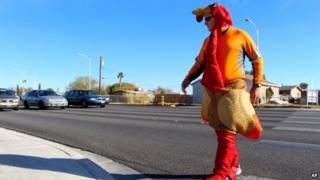 Winning entries in the Caption Challenge.
This week a man in a turkey costume crosses the road.
Thanks to all who entered. The prize of a small amount of kudos to the following:
6. Roger Langley:
Christmas Doctor Who monster auditions here we come.
5. Lin Vegas:
Mr December poses for 2014's niche calendar, Road Crossings of Britain.
4. Lewis:
Man charged with fowling the pavement.
3. robandav:
When you said all your turkeys came with free delivery...
2. IABP:
"I'm on day release until President Obama officially pardons me for Thanksgiving."
1. CindyAccidentally:
"I dunno, rush hour seems to start earlier every year."
Full rules can be seen here
[16KB]
Follow @BBCNewsMagazine on Twitter and on Facebook