Readers' novels no 1: Indiscreet arrival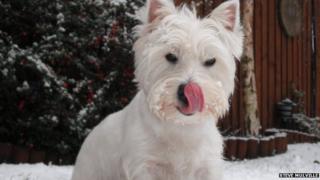 The Magazine's feature on why people take part in the month-long novel-writing event NaNoWriMo prompted dozens of readers to send in 350-word long excerpts. Here is Julie Perry's Indiscreet Arrival.
"Wow", Charlotte cried as her car skidded in the thick snow narrowly missing a parked vehicle. Why had she agreed to move on the 4th of January? Was she mad? She thought to herself. It would be a miracle if the removal men had made it at all. They had started out four hours earlier, having lunch on the way. It was already getting dark and it was not yet four o'clock. Tom would have laughed at her indecisiveness. Should she or shouldn't she move at all. The house in Islington had seemed so big after his death. She turned into Church Lane and yes there were the removal men stuck in the middle of the lane. A lorry coming the other way had tried to squeeze past and it too, was now stuck. The vicar was out with what seemed like most of his congregation who were standing in the road contemplating on what to do next. As Charlotte approached, Mr Pettison, the senior removal man tapped on her window.
"Sorry about this Mrs Henderson as you can see we are stuck. It is as simple as that. That dog over there followed by the young lad came running across the road and I anchored the brakes digging the wheels firmly into the snow. We have tried moving but it won't budge and it has now started to freeze."
"I see."
"And to think we were only two hundred yards short of our destination. That blooming dog and that lad! He is trouble mark my words. It would probably move better if it wasn't loaded, the lorry I mean, so we are going start moving some of the more manageable items and see if we cannot move it when it is half full. The villagers seem a friendly bunch and have agreed to help."
"Right," Charlotte said somewhat perplexed by the thought of her new neighbours seeing all her worldly goods. What happened to her discreet arrival? You know settling in first and then getting to know them one by one. Before she knew it the vicar was...