Paper Monitor: Christmas sprouts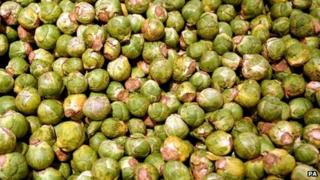 As the world mourns Nelson Mandela's death, there's something comforting about the letter pages.
Just a photograph of the man and his dates (1918-2013) is how many front pages celebrate the life of Nelson Mandela.
The Daily Mail has the headline: "Death of a Colossus." The Guardian adds a quote from Desmond Tutu.
Richard Desmond's papers are an exception. The Daily Star has two stories on its front page - "Mandela dead at 95: World mourns freedom fighter" together with a story about the "killer storm" tearing across the UK. The Express has a panel beneath the masthead announcing news of Mandela's death but just one story: "142mph Storm Wreaks Havoc."
On such a momentous news day - and Paper Monitor is not talking weather - there is something comforting about the every day chatter of the letters pages.
Times readers have been talking about sprouts this week. Today another writes: "Sir, Once children realise that sprouts are a valuable source of Kryptonite, there is no need to use a sobriquet."
Daily Telegraph readers have been exchanging reflections on birthday presents. Lynda Palin in Chester writes: "For my mother's 21st birthday in 1929 her parents offered to pay for her to have all her teeth removed and false ones fitted. They thought this would be a wonderful present as 'teeth are nothing but trouble.' Thankfully, she declined their kind of offer."
Meanwhile Min Flowers - a perfect letter writer's name - from Chilgrove, West Sussex, announces:"When I turned 21 in the middle of the swinging Sixties, my father's gift to me was a Jimmy Young LP, but I didn't hold it against him."
Paper Monitor wonders whether they'll be comparing notes on Christmas presents next week.
Follow @BBCNewsMagazine on Twitter and on Facebook