Paper Monitor: Merry Christmas?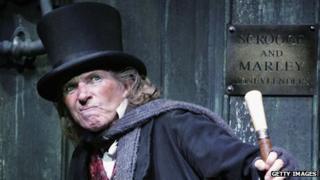 With only a week to go until Christmas, the festive stories are out in force. But they don't all bring Christmas cheer.
First up there's the news that more than 50% of Britons are becoming a bit of a Christmas Scrooge.
"Half of us have stopped giving Christmas tips to tradespeople," says the Daily Mail. "Christmas box is a thing of the past," declares the Times.
According to research, fewer than 25% of households now tip the postman - with the most generous in the West Midlands - while only 15% give to the dustman, and Londoners are most likely to line their pockets.
Hairdressers fare better, with more than a fifth of people fiving them a festive tip. But even then, tippers will probably be over the age of 55.
Meanwhile farmers are facing another festive challenge, according to page five of the Times.
"Greedy pigeons swoop on Christmas dinner sprouts," it says.
According to the paper, about 25% of all sprout sales occur in the two-week period around Christmas and New Year, so growers are hoping they can keep hungry pigeons at bay.
"Growers have tried gas bangers, kites in the shape of hawks and flags that rustle in the wind... this week we went down with some Santa scarecrows to see if they could protect our customers' Christmas sprouts," it cites Lance Canavan, a Tesco sprout buyer, as saying.
They may be taking some comfort from other quarters however. A mild December has brought a surprise bumper crop of raspberries, apples and wild garlic, according to the Daily Mail.
Paper Monitor wonders whether Christmas turkey and raspberries, or Christmas turkey and apples, would ever take off.
Follow @BBCNewsMagazine on Twitter and on Facebook