Paper Monitor: Stay classy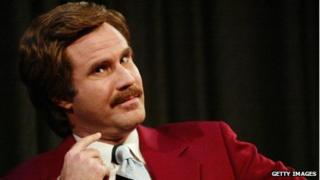 It's no surprise that the papers are excited about the release of the sequel to Will Ferrell's comedy Anchorman.
The anti-hero of the film is, of course, a journalist, something that makes journalists excited.
In the Guardian, Hadley Freeman interviews Ferrell about his character, news anchor Ron Burgundy, "whose idea of a dignified chatup line is: 'I'm very important. I have many leather bound books and my apartment smells of rich mahogany'".
While he enjoys portraying characters who are "super-boring" and "earnest", he suggests that Burgundy has a special allure because "playing super-sleazy is the most fun for me".
The Sun, however, has gone one better.
Its centre spread is devoted to Mort Crim, a former newsreader whom the paper describes as "the real Ron Burgundy".
Like his fictional counterpart, Crim was horrified when he was obliged to work with a female co-host in the 1970s.
"Back then I was a real male chauvinist pig," he admits. "I was not nice to her."
He says he was not quite as bad as Burgundy, who famously declares: "It's anchorman, not anchorlady. And that's a scientific fact."
Nonetheless, Crim joined Ferrell at the sequel's premier in New York on Sunday in recognition of his inspirational role.
As his fictional equivalent says, after an on-air reporter fails to coax a panda from its cage: "Great story. Compelling, and rich."
Follow @BBCNewsMagazine on Twitter and on Facebook