Why do people search for 'spooning'?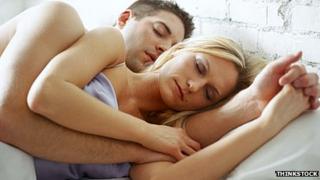 Google's annual list of the most popular search words and terms in the UK usually holds few surprises but this year a rather old-fashioned term made an unexpected appearance - spooning.
Twerking made it, so did YOLO, the Harlem Shake, Cheryl Cole's tattoo and dip-dye hair. It's all a bit predictable, but Google's annual list of the most popular search words and terms usually is.
But one search did stand out - "what is spooning?" It traditionally means a cuddle where you lie on your side and one party snuggles up against the other's back, fitting together like spoons. Relationship experts say it's about closeness and intimacy, not necessarily sex. A rather sweet addition to Google's list, there's always a chance it could have been hijacked to mean something else in 2013, something possibly less innocent. But a quick online search suggests cuddling is still the most popular meaning.
And the internet is awash with information on it. There's YouTube videos teaching you how to spoon properly and guides to different types of spooning, like sparking which involves an intricate interlocking of legs. And, like most things online, cute felines get a look in. There's multiple pictures of cats spooning, cats and dogs spooning, people spooning with their cats - the combinations are endless.
So why do so many people want to know what it is? Have we got a lot more touchy-feely in 2013? Not particularly, says relationship expert and agony aunt Suzie Hayman. "I'm not sure the British have got more into cuddling than usual."
Has the word worked its way into young people's vernacular and found a whole new audience? Not particularly, says Caroline Corcoran, who works on music and teen magazines. "It's not something I've noticed but it does stand out on this list, it's oddly sweet."
An educated guess is the word may have been used on a popular television show and people Googled it to see what it meant. "Something can go viral very quickly as soon as it is searched on social media," says Corcoran.
It remains something of a mystery.
Follow @BBCNewsMagazine on Twitter and on Facebook