Paper Monitor: Looking forward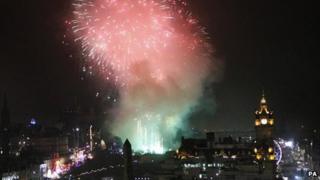 Happy Hogmanay!
Traditionally, New Year's Eve is a bigger celebration in Scotland than Christmas Day - a fact upon which the Times urges us to reflect.
According to Stirlingshire-based columnist Melanie Reid, the looming independence referendum means "this could indeed be the last time the United Kingdom as such celebrates the new year".
For Reid, this means a lucky escape for the rest of the UK. She is no fan of the "tyranny of compulsory drunkenness, consumption of neat cooking whisky, snogging of strangers; and an outpouring of maudlin sentiment".
Nor is she fond of endless hand-shaking, mass renditions of Auld Lang Syne or of panic-buying, "mostly of white bread, Lorne sausage and Irn-Bru".
In the Daily Telegraph, Fast Show comedian and second generation Scot Arabella Weir echoes similar sentiments.
"New Year's Eve: just those three little words alone fill me with such a foreboding sense of deflated hope, dashed dreams and dismal prospects - tainted memories of yearned-for highs ending up shipwrecked against the treacherous rocks of cheap booze and unseemly embraces," she laments.
If Hogmanay is Scotland's answer to Christmas, there must surely be a Gaelic, Doric or lowland Scots phrase equivalent to "Bah, humbug."
Well, so much for that. Paper Monitor has always quite liked New Year's Eve. So it's with relief that this columnist turns to another Telegraph feature, this time by Judith Woods, who has passed a wine-tasting course and is very keen that we all know about it.
"My award - like a Blue Peter badge, it must be earned and cannot be bought - shows I have passed an internationally recognised exam, covering everything from grape varieties, styles of wine and methods of production," she declares proudly.
As a result, Woods won't be giving up booze for January as she'll be too busy putting her new-found knowledge to the test a la Jilly Goolden.
Good for her, says Paper Monitor. And a very happy 2014 to you too.
Follow @BBCNewsMagazine on Twitter and on Facebook
On a tablet? Read 10 of the best Magazine stories from 2013 here