Caption Challenge: Ruff justice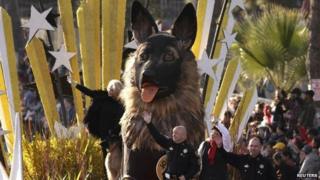 Winning entries in the Caption Challenge.
This week, Law enforcement officers ride on the K9s4Cops float at the 125th Rose Parade in Pasadena, California.
Thanks to all who entered. The prize of a small amount of kudos to the following:
6. Gavin Higginbottom:
Honey I shrunk the cops!
5. Adrian Wade:
Bark and Ride.
4.Peter Hillier:
Hello there - can you give us a lead?
3. Simon Rooke:
The FDA still insist that genetically modified ingredients in dog food is safe.
2. Richie 53:
Liliput townspeople happy to look after Gulliver's dog while he goes on holiday.
1. Siv Angel:
The Notting Hill Carnivore.
Full rules can be seen here
[16KB]
Follow @BBCNewsMagazine on Twitter and on Facebook