Paper Monitor: The Fawlty guide to foreigners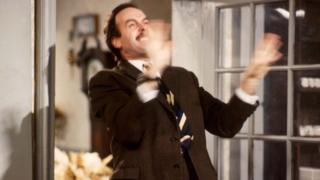 Paper Monitor thought the British fared fairly well in the manners stakes, but apparently VisitBritain thinks otherwise. It's issued tips on how to avoid making gaffes with foreign travellers, and the papers are struggling to take them seriously.
"The Fawlty guide to foreigners: don't mention the ghost," is the Times' take on the advice.
"Short of advising people, when dealing with the Germans, not to mention any major international conflicts of the mid-twentieth century - even if they did start it - this might appear to be the sort of guidance that would be given to the tourist industry by Torquay's finest hotelier, Basil Fawlty," it says.
Among the list of dos and don'ts to help prevent hoteliers insulting foreign guests are "do not poke fun at Indian accents" and "deal promptly with any complaint from German or Austrian tourists", the paper reports.
"Some of the advice is so banal that one might wonder why anyone bothered to include it. Canadians, we learn, will be offended if they are described as 'American'. Who knew?" it muses.
The Daily Telegraph agrees the tips range "from the bizarre to the blindingly obvious".
A contender for the most bizarre has to be the suggestion that tourists from Hong Kong should not be given a four-poster bed because they associate them with "ghostly encounters".
For those still slightly bewildered, the paper has helpfully printed the full list of Dos and Don'ts.
Paper Monitor couldn't resist highlighting a few favourites:
DO: Ensure tourists from Russia - a "tall nation" - are housed in rooms with high ceilings and doorways.
DO: Realise that Australian people are being endearing when they make jokes about "Poms".
DON'T: Exchange a smile or make eye contact with anyone from France who you do not know.
DON'T: Say "no" in a direct way to a Japanese tourist - instead think of a "nicer alternative".
Follow @BBCNewsMagazine on Twitter and on Facebook
On a tablet? Read 10 of the best Magazine stories from 2013 here