Caption Challenge: Pillage picture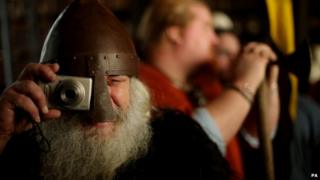 Winning entries in the Caption Challenge.
This week a man takes a photo in Trinity College, Dublin at the launch of a year of events to commemorate the thousand-year anniversary of the Battle of Clontarf.
Thanks to all who entered. The prize of a small amount of kudos to the following:
6. Dry Boak:
Anytime I see something to pillage, I snap it up.
5. SkarloeyLine:
Leif through a lens.
4. Graz Valentine:
Canon the Barbarian.
3. Mark S:
Unfortunately the head was cut off in Olaf's photo.
2. Joshua Bailey:
Retro cloths, beard and camera #hipster.
1. Richard Caulfield:
Evidence uncovered that Vikings struggled with the selfie.
Full rules can be seen here
[16KB]
Follow @BBCNewsMagazine on Twitter and on Facebook