The scribe of Bamako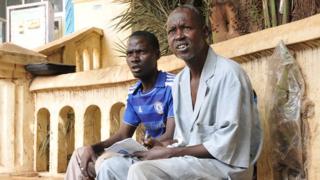 There are a thousand ways to say "I love you". Alassane Maiga's job is to pick the right one for each customer, reports Alex Duval Smith from Bamako, the capital of Mali.
He is one of 10 public scribes that sit on benches outside La Grande Poste, the city's main post office. In a country with 70% illiteracy, scribes are required to help the public fill in forms and send letters - but this week, Maiga and his colleagues are focused on a different kind of communication.
"Valentine's Day is when all our work comes to fruition," he says. Bamako is big enough and amorous enough to keep the scribes working until the early hours of the morning in the week before Valentine's Day - to the extent that they can be seen sleeping on the post office steps.
Besides the countless parcels to be addressed and cards to be adorned with "Mon Amour" and "Je t'aime", Maiga has to find time for the pinnacle of the scribe's art, the love poem. These cost 2,000 Malian francs (£2.50; $4.00), four times the price or a normal letter. Like flowers, words cost more at this time of year.
A love letter is never a one-size-fits-all affair. Maiga has to analyse the nature and magnitude of each passion - "what kind of love are we talking about?" - and assess the situation. Does he need to woo, seduce or charm? Should the billet doux contain a note of contrition, following an argument? Is it intended for a colleague at work, or a lover?
But perhaps most importantly, he needs to size-up the client. Is he an intellectual, literary type or plain-speaking? Brash or romantic? "We have to get into their shoes," Maiga says, adding that he sometimes writes for women too.
He admits that for some cynics outside the Post Office, writing letters is just a job. But after 15 years, he takes his role as a go-between very seriously. "My aim", he says, "is to serve others".
Follow @BBCNewsMagazine on Twitter and on Facebook
Listen to Alex Duval Smith's report from Bamako on 13 February at 12.00 GMT on Outlook on the BBC World Service.