Caption Challenge: England rugby fans in costume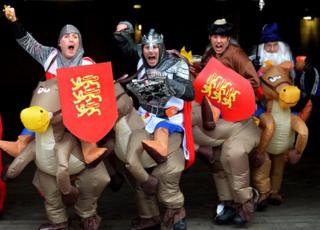 Winning entries in the Caption Challenge.
This week, some England rugby fans don an understated costume.
Thanks to all who entered. The prize of a small amount of kudos to the following:
6. Nick Rabin:
Fancy dressage.
5. Siv Angel:
"You think we look daft? The French fans have eaten theirs."
4. Simon Tobin:
A game of Sloanes.
3. IABP:
Why do only fools and horses twerk?
2. Alan Shaw:
The Bernie Clifton Appreciation Society decided to go for something a bit different this year.
1. schlimmbesserung:
Some fans misunderstood the RFU's statement that there would be a charge to get into Twickenham.
Full rules can be seen here
[16KB]
Follow @BBCNewsMagazine on Twitter and on Facebook