Sochi 2014: A touch of self-deprecation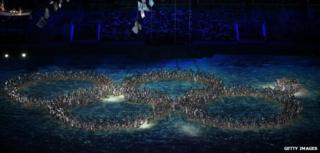 The Sochi Games closed with Russia poking fun at itself - so when is self-deprecation a good idea, asks Tom de Castella.
Sochi opened with a malfunction and ended with a joke. The gag was self-deprecatory. Hundreds of dancers formed the Olympic rings but the fifth ring of dancers initially failed to open. It was an unexpected, knowing nod to the lighting malfunction - one ring remained closed - that dominated coverage of the Games' opening. The humour was doubly surprising after the host broadcaster's initial response to the technical problem. Russian state TV simply switched to pre-recorded footage from the dress rehearsal. But the cat was out of the bag and the gaffe led #sochiproblems to go viral.
Today "disarming candour" is an advertising strategy. It was once shocking. Volkswagen's Think Small and Lemon adverts in 1959 were unusual in drawing attention to the VW Beetle's perceived weaknesses. Now it is seen as one of the best advertisements of all time. Private Eye nicknamed the Guardian newspaper the Grauniad, after its legendary spelling mistakes. Now the paper has gone as far as to use Grauniad.co.uk as a redirect to its homepage. Boris Johnson has almost made self-deprecation his calling card. Presenting yourself as perfect is not as persuasive as some people think it is, says Rory Sutherland vice-chairman of Ogilvy UK ad agency. "Admitting your perceived weakness - disarming candour - is a pretty effective strategy." It inspires trust.
Danny Rogers, editor of advertising magazine Campaign points to the M&S campaign "We Boobed" that followed an outcry over its charging policy for bras. And Skoda - once the butt of jokes - has used "It's a Skoda. Honest". Self-deprecation is charming if used sparingly, Rogers argues. "But consumer sympathy for poor corporate performance is very limited."
It's not clear whether Vladimir Putin saw the funny side or not. Luckily the organisers had an eye on their worldwide audience. The case of the missing ring might be remembered as a knowing wink rather than a sinister cover-up.
Follow @BBCNewsMagazine on Twitter and on Facebook