Caption Challenge: Winning entries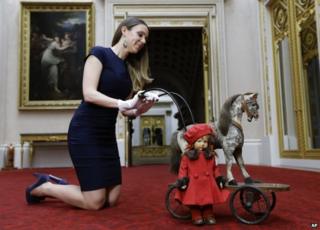 Winning entries in the Caption Challenge.
The competition is now closed.
This week a curator poses with a doll and a horse on wheels.
Thanks to all who entered. The prize of a small amount of kudos to the following:
6. Richard Moody:
Trolly-dolly.
5. Peter Clarke:
The lower classes think we cannot manage the hoovering without them.
4. James Scott:
First Great Western's rail replacement service branded "inadequate" by passenger groups.
3. Andrew Sweet:
"Forgotten" Middleton sister forced to take on Kensington milk round to make ends meet.
2. Philip Woodall:
And here is Rachel who is demonstrating how even your children will love the latest Dyson "landed gentry super deluxe".
1. Ben Machell:
Woman in blue dress kneels down and pushes a horse on wheels plus there's a doll in a red outfit stood there too.
Full rules can be seen here
[16KB]
Follow @BBCNewsMagazine on Twitter and on Facebook