Caption Challenge: Creature cosmetics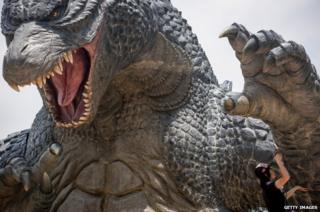 Winning entries in the Caption Competition.
The Caption Challenge is now closed.
This week, a man airbrushes the final touches to a replica of Godzilla in Tokyo.
Thanks to all who entered. The prize of a small amount of kudos to the following:
6. Jeremy Green:
"Where is that Spielberg guy?"
5. Andrew Wilson:
"Are my scales to scale?"
4. Jen Lily Arthur :
"Hold still! It's just a splinter, you big baby."
3. Mickee Fabbro:
Vet's life at Jurassic Park: "Taking the pulse is the easy bit, tomorrow I have to give it an enema."
2. Mark Wilkins:
"Going anywhere nice on your holidays?"
"Destroying Tokyo again? Lovely."
1. Jon Boaden:
Local shop in trouble after failing to honour "Monster Discounts".
Full rules can be seen here
[16KB]
Follow @BBCNewsMagazine on Twitter and on Facebook