Victorian Strangeness: The parrot that started a fight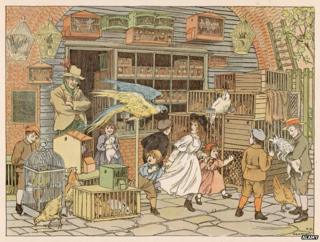 The British newspaper archive is a treasure trove of outlandish stories. Author Jeremy Clay tells the singular tale of the parrot that provoked a pub dust-up.
A spilt pint. A misplaced glance. A loose tongue. The wrong look. The wrong accent. The wrong attitude. Too much booze. Too little common sense.
All these things and far more besides have provided the flimsy excuses for bar-room brawls down the years. But there can be few flare-ups with an odder spark than the ugly scene which broke out in one London boozer in the summer of 1898.
Arthur Crowe and his pal George Tibbett were having a drink in a Blackfriars pub with a German pal when an ice-cream man called Brambani sauntered in. The landlord kept a parrot behind the bar and Brambani enthusiastically returned to his on-going project, trying to teach it to speak Italian.
"With characteristic ineptitude," reported the Falkirk Herald, the parrot replied in English. A potty-mouthed brand of English, at that. We don't know what it actually said, as the diffident press printed it as "Oh, you old --" but it was enough to provoke Crowe and Tibbett, who thought the insult had come from Brambani. Not just that, but it was aimed at the German woman at their table.
The hapless Brambani tried to explain who the real culprit was, but reason rarely figures in the prelude to a dust-up. In increasingly aggressive tones, they demanded an apology. The parrot, meanwhile, thrilled by this unexpected turn of events, "kept up a running fire of abusive and scandalous remarks".
Sensing matters were heading for a painful conclusion, Brambani turned and legged it, scarpering for the safety of his sweet shop.
Itching for a fight, the trio pursued him, and were soon joined, as if by magic, by a like-minded small mob. Brambani's nephew John stepped forward to appeal to the best instincts of the crowd, and was promptly met with a hailstorm of missiles, including ginger beer bottles and, gallingly, his family's own ice-cream glasses.
"The German lady took an active part in the melee," said the Herald, "but decamped upon the arrival of PCs Greenway and Hunt, who prevented further bloodshed and arrested the prisoners."
Crowe and Tibbett were jailed for a month. There was no word on what became of the parrot. But two years earlier, a few miles up the road, another parrot was ruffling feathers in court.
Solicitor's clerk Henry Lovegrove had bought a talking parrot in a pub as a gift for his sweetheart.
"Can it talk?" he asked ship's steward William Foulger. It most certainly could. Spanish and English. Plus, it could sing. It did a rousing version of Ta-ra-ra-boom-de-ay, Foulger boasted. Thirty shillings seemed a fair price for such a richly-talented pet.
The wary Lovegrove had just one more question. The bird had been kept on a ship - was it fit to present to a lady? Oh, the bird chooses its words carefully, Foulger assured him: "Its language is that of a bishop."
Imagine Lovegrove's consternation, then, when Miss Nelson soon told him she couldn't stand to be in the presence of the bird for a moment longer. Why? "The parrot swears more than the troops in Flanders," Lovegrove told Shoreditch County Court, after being pursued by Foulger for the 30 shillings he'd never paid.
In themselves, that string of profanities might not have proved a problem. The bird, it seemed, specialised in swearing in Spanish. Alas, poor Miss Nelson had been a governess in Spain. She understood every single word. The parrot's language, she told the court, was "simply sulphurous".
At that point, the bird itself was brought into the courtroom. "Perhaps it would talk for the edification of your honour?" said Lovegrove's solicitor. "I don't want to hear it," harrumphed the judge. "My knowledge of the Spanish tongue is not so profound as Miss Nelson's, nor have I any wish to endure Ta-ra-ra-boom-de-ay again."
And with that it was settled. Lovegrove kept his cash. Foulger reclaimed the parrot. Is it too fanciful to imagine he flogged it to a pub landlord in Blackfriars?
Discover more about what life was like in Victorian times and 10 truly bizarre Victorian deaths
Subscribe to the BBC News Magazine's email newsletter to get articles sent to your inbox.