Caption Challenge: Great big kiss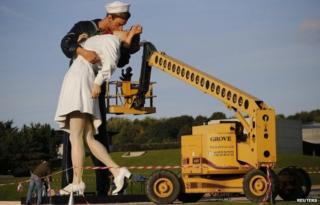 Winning entries in the Caption Challenge.
The competition is now closed.
This week, a sculpture based on the famous Times Square VJ Day kiss is installed in Caen, France.
Thanks to all who entered. The prize of a small amount of kudos to the following:
6. Siv Angel:
Plinth charming
5: Ben Gardner:
It was love at first sight for Peter Crouch.
4. rogueslr:
Er, you do know that the latest advice is for hands-only CPR.
3. FifiFanshawe:
Grove's original prototype for an offender ankle tag was dismissed as "unwieldy".
2. CindyAccidentally:
Royal Academy rejects "The Purr" as a suitable monument to Anglo-Scottish unity.
1. David Elliot-Smith:
Only later would she discover he had bent her new iPhone.
Full rules can be seen here
[16KB]
Follow @BBCNewsMagazine on Twitter and on Facebook