Ad Breakdown: Sex and the e-cigarette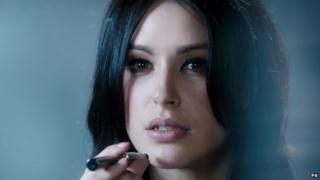 E-cigarettes are to be shown in a UK TV advert for the first time on ITV on Monday. And it's deemed too sexual to air before 9pm, writes Justin Parkinson.
"You know that feeling you get when something's great?" a young woman in a black party dress asks. As she rubs her hand across the top of her right thigh, her voice becomes huskier and more playful as she says: "You can touch it, hold it, even see it. Well, now you can taste it."
She places a VIP e-cigarette to her mouth and exhales a lung-full of vapour before the details of the product are given.
TV commercials for cigarettes were banned in 1965 and those for other tobacco products, such as cigars and roll-ups, in 1991.
But e-cigarettes have been advertised for some time. They're sold as a healthier alternative to tobacco, but many experts say there are still health risks. The Committee of Advertising Practice has now changed the rules to allow the devices themselves to be shown, rather than just people talking about them.
Once, sex was used to promote a glamorous image of cigarettes. Women in short skirts featured in promotions for Lucky Strike in the 1950s, while in the 1970s, John Player Special showed a seduction scene in a country house in a cinema commercial to create an association of sophistication.
"The old adverts were using sex to sell cigarettes to young people, but the VIP ad is just crude," says Victoria Tomlinson, chairman of Northern Lights Public Relations and Marketing. "It's very much the age we live in. Young people in particular are much more sexualised these days, so you have to be more direct about sex to get the message through."
It could have been more direct, though. The original VIP commercial - not featuring an actual e-cigarette - was aired at 21:10 during an episode of I'm a Celebrity, Get Me Out of Here last December. Some viewers complained that comments made by the same woman, and a man featured separately, appeared to refer to oral sex. The Advertising Standards Authority investigated and decided in February that it couldn't be aired before 23:00.
It was toned down, but the ASA found the degree of sexuality in it was still unsuitable for children. So it won't be in ad breaks starting earlier than 21:00.
"It's going for a 'sex sells' idea, but it disappointed me," says Mark Tungate, author of Ad Land and editorial director of the international Epica Awards for advertising creativity. "It's neglecting the excellence - whether you hate the product or not - of much of the tradition of tobacco advertising. If you go back to the days when Hamlet cigar ads were on TV, it was innovative and engaging."
But Dave Levin, co-founder of VIP, disagrees with the critics, saying: "Vaping has never been shown on a TV advert in the UK before, so this is a first for the country and I'm sure it will be a real conversation starter."
Viewers of ITV's Grantchester will be left to decide whether they find the advert vampish, vulgar or vapid.
Subscribe to the BBC News Magazine's email newsletter to get articles sent to your inbox.