Will the floods in California end the drought?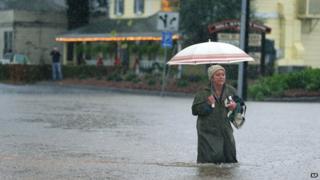 As freak storms continue to pummel California, could the heavy rainfall help ease the state's three-year crippling drought?
Experts say it is unlikely a few days of intense rainfall will make a significant impact on extremely low ground water and reservoir levels. "When we see floods, landslides and a lot of rain all at once, it gives the impression we're not in drought anymore," says climatologist Brian Fuchs at the National Drought Mitigation centre. "But drought is a slow onset type of disaster and it has a slow recovery time," he says.
Over the past three years, scant rains have meant that California has missed out on a full year's worth of precipitation. Most of the state has been categorised as having extreme or exceptional drought conditions, with some areas the driest they have been for hundreds of years.
California's four main reservoirs in the north of the state have seen their levels depleted significantly. "This storm has been somewhat helpful, but even a storm of this magnitude is only getting us a fraction there," says Mitch Russo, Chief of River Forecasting in the Californian Department of Water Resources.
Russo says although the storm has brought a 3% rise in water levels in the the Shasta reservoir, California's largest, it is still only half-full considering the time of year.
Experts say ground and reservoir levels are likely to show an improvement in the next few days as run-off water trickles down through the dry landscape. But, they say, despite predictions of a rainy winter, California would need to see extremely wet weather to put an end to the drought.
"We are just at the beginning of the wet season," says Russo. "We would need to maintain this pace of rainfall for the entire season for the situation to get us out of drought and that is not likely to happen."
Reporting by Joanna Jolly
Subscribe to the BBC News Magazine's email newsletter to get articles sent to your inbox.