Weekendish: The best of the week's reads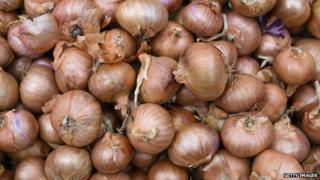 A collection of some of the best reads from the BBC News website this week, with an injection of your comments.
The tangy, tear-inducing onion is eaten and grown in more countries than any other vegetable. Its taste has been enjoyed for centuries - so it's time to show it some appreciation, says the BBC's Marek Pruszewicz. Deep in the archives of Yale University's Babylonian Collection lie three small clay tablets - they are the oldest known cookery books. Covered in minute cuneiform writing, they reveal recipes rich with not only onions, but also leeks, garlic and shallots. "They seem obsessed with every member of the onion family!" says assyriologist and gourmet cook Jean Bottero. Centuries on and the humble bulb is produced in at least 175 countries, well over twice as many as grow wheat. "Please respect the most humble & delicious of all veggies, the onion," tweeted Broadcast Belle.
The unkillable man
Sir Adrian Carton de Wiart was a one-eyed, one-handed war hero who fought in three major conflicts across six decades, surviving plane crashes and PoW camps. He served in the Boer War, World War One and World War Two. In the process, he was shot in the face, losing his left eye, and was also shot through the skull, hip, leg, ankle and ear - and he ripped off his own fingers when a doctor refused to amputate. He was famous for leading from the front - inspiring men with the simple words "follow me". As commanding officer, he was seen by his men pulling the pins of grenades out with his teeth and hurling them with his one good arm during the Battle of the Somme, winning the Victoria Cross. "Carton de Wiart is like Robocop," says Colour Sgt Thomas O'Donnell. David Quainton wrote on Twitter: "Yay! My favourite indestructible human is getting a bit of BBC love."
The soldier who fought on and on and on
Monster ships
From a giant of the battlefield to monsters of the sea. The container ship the Globe docked in Britain for the first time this week - shortly after taking the crown as the largest container ship in the world. The stats are jaw-dropping - it's 400m (1,312ft) long, the equivalent of eight Olympic-size swimming pools. It is 56.8m (186ft) wide and 73m (240ft) high, its gross tonnage is 186,000 - the equivalent of 14,500 London buses. Laid end-to-end, the maximum number of containers on board would stretch for 72 miles, the distance between Felixstowe and London, or Birmingham and Manchester. But it isn't expected to hold the title for long because a slightly larger vessel - the Oscar - is about to be launched. How much bigger can these ocean-going behemoths get?
The world's biggest ship - for 53 days
Rapist rehabilitation
On Thursday footballer Ched Evans issued an apology. "Whilst I continue to maintain my innocence, I wish to make it clear that I wholeheartedly apologise for the effects that night in Rhyl has had on many people, not least the woman concerned," he said. It came a day after the Magazine's article on about what an apology from Evans might mean. Evans was found guilty by a jury in 2012 of the rape of a 19-year-old woman, who was estimated to be two-and-a-half times over the drink-drive limit. The overarching factor cited by all of his critics has been his failure to say sorry. According to criminologist David Wilson, acknowledgement of culpability is absolutely key to making rehabilitation work. "Unless a convicted sex offender admits their guilt, there is absolutely nothing you could do with them in terms of treatment programmes," he said.
What difference would it make if Ched Evans said sorry?
Freedom of speech
Historian and writer Tom Holland was one of those who tweeted Charlie Hebdo's cartoon of the Prophet Muhammad in the wake of the deadly attack on the magazine's office. He explains why in an essay for the Magazine. He turns to Voltaire, who is something of a patron saint in France because of his lifelong campaigning for free speech and tolerance. "Ecrasez l'infâme, Voltaire famously urged his admirers: Crush what is infamous," writes Holland. "Islam, too, makes the same demand. The point of difference, of course, is over how "l'infâme" is to be defined." For Voltaire, the infamous referred to the pretensions of authority - in politics as well as religion. And it was the same for the Charlie Hebdo cartoonists. But for the gunmen, writes Holland, the "infamous" are those who "mock a prophet whom they feel should exist beyond even a hint of criticism." Here, he argues, lies the irreconcilable clash of opposed values. Dave Drabble tweets: "Rare to see such informed, nuanced views in the media."
'Why I tweeted Muhammad cartoon'
All smiles
From the tear-jerking onion to the tricky pursuit of a smile. AL Kennedy looks at how the desire for happiness can make us sad. "The vast advertising industry would have us believe... that acquiring things will make us happy," she writes. "We're shown pictures of crowds responding with apparently exponential panic, if not violence, to pop-up sales, clearance sales, spring sales, end of season sales, Manic Monday and Black Friday." She adds that a recent study from the Yerkes National Primate Research Center has noted that monkeys can give us some important examples of how to achieve happiness. The animals were seen to exchange reciprocal favours without necessarily keeping track of who did what for whom - creating positive interactions and an atmosphere of monkey contentment.
Here are some things we've enjoyed this week from elsewhere around the web:
The Lives of Ronald Pinn - London Review of Books
The everyday sexism of women waiting in public toilet lines - Time
Vinyl's difficult comeback - The Guardian
The Unbelievable life of Fray Tormenta - Vice
Subscribe to the BBC News Magazine's email newsletter to get articles sent to your inbox