Caption Challenge: Bear on the loose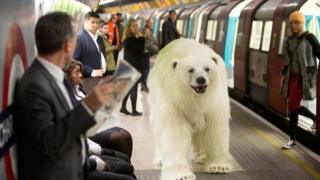 Winning entries in the Caption Challenge.
The Caption Challenge is now closed.
There is still no prize, except the traditional small quantity of kudos.
This week it's a polar bear - a pretend one - on London Underground.
Thanks to all who entered. The prize of a small amount of kudos to the following:
6. David Gleeson:
Northern Line extension a success, say commuters.
5. Julian Ashton:
"Euston, we have a problem."
4. Simon Cliff:
"There is currently a good service on the Arctic Circle line."
3. Dan Hawkins:
It's the tube. No one even looked up.
2. Tasha Harrison:
"Overcrowded? How ridiculous. I was the only one in my carriage."
1. Shashi Verma:
"I like salmon, not sardines."
Full rules can be seen here
[16KB]
Subscribe to the BBC News Magazine's email newsletter to get articles sent to your inbox.