Do British dairy farmers really make a loss on milk?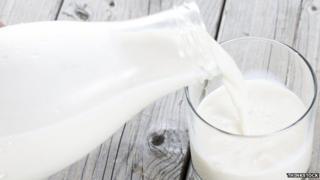 The news has been awash with reports about the impact of falling milk prices on British dairy farmers. But are farmers really making a loss on each litre of milk they produce, asks Keith Moore.
The big supermarkets are often blamed for lowering prices and putting dairy farmers out of business. It's been claimed that the cost of producing milk exceeds the amount that farmers receive for it. So is that really the case? BBC Radio 4's Farming Today has been investigating and it reveals a mixed picture.
The figure most commonly heard when it comes to the cost of producing milk is 28p per litre. That includes things such as the rent of the farm, feed for the cows and labour. The headline figure of 28p is an average that is used by the National Farmers' Union and doesn't necessarily reveal the variation between farms. The most recent figures from industry body DairyCo show there is a 14p per litre difference between the top 25% of farms and the bottom 25%.
It's not just the cost of producing milk that is dependent on the individual farm - the price farmers are paid also varies. About half the milk produced in the UK is sold as liquid milk, with the other half used for products such as cheese and yoghurt. Of the liquid milk, a third is sold to retailers who base the price they pay on what it costs the farmers to produce it. Those retailers include Sainsbury's and Marks and Spencer who are currently paying 34p per litre, Waitrose who are paying 33p per litre, Tesco who are paying 32p per litre and Co-op who are paying almost 31p per litre.
The remaining two-thirds of the liquid milk produced is sold to processors, and they are the ones who have been making cuts. Arla, which supplies Asda, pays farmers 25p per litre, as does Muller Wiseman. Dairy Crest is set to cut its price to less than 25p per litre, and First Milk - which recently delayed payments to farmers - pays about 22p per litre. Iceland supermarket gets its milk from Arla and Muller Wiseman but has asked them to base its future price on the cost of production. Morrisons recently announced it would be setting up its own producer group, but in the meantime gets its milk from Arla and Dairy Crest.
The reason why prices have been falling is down to there being more supply than demand. More milk is being produced around the world, China isn't consuming as much as expected and Russia has announced an import ban. Over the last 10 years, the numbers of dairy farmers in the UK has been going down but the amount of milk produced has remained consistent as the remaining dairy farmers have bigger farms.
But while it's true to say that some dairy farmers are being financially hit by price cuts, it's too simplistic to say it's the same for all of the UK's milk producers. Farmers receive subsidies for the amount of land they have, and despite some making a loss on their milk business, they may still be making money. Others are still making money on the milk they produce. It's entirely down to the individual farm.
Even if they are not actually losing money, however, these are tough times for dairy farmers, the NFU says. A spokesman says that a combination of high farm costs and low prices have left many "under extreme financial pressure and fearing for the future of their dairy businesses".
---
More or Less
Hear more about the numbers in the news and everyday life on More or Less on BBC Radio 4 at 20:00 on Sunday or online
---
Subscribe to the BBC News Magazine's email newsletter to get articles sent to your inbox.