Caption Challenge: Pretending to be snow leopard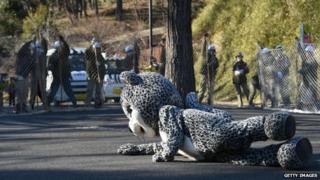 Winning entries in the Caption Challenge.
The competition is now closed.
This week a zoo employee dresses up as a snow leopard during an escape drill.
Thanks to all who entered. The prize of a small amount of kudos to the following:
6. Mark Coates:
The ref wasn't interested in Snowy the Snow Leopard's attempt to get Geoff the Giraffe sent off.
5. Chris O'Brien:
"I just need to lie here until it snows, become totally invisible, and sneak away."
4. Diamond Lil:
Beast of Bodmin Moor fails to live up to the hype.
3. SkarloeyLine:
The Great Escape: The Director's Cut featured a number of controversial deleted scenes.
2. Adrian Bayling:
Jez had lost touch with the rest of the stag party, but hoped to slip back into South Korea without attracting attention.
1. Anu Ralhan:
Julian Assange's exit from the Ecuadorean embassy was not the success he had hoped for.
Full rules can be seen here
[16KB]
Subscribe to the BBC News Magazine's email newsletter to get articles sent to your inbox.