Weekend edition: The best of the week's reads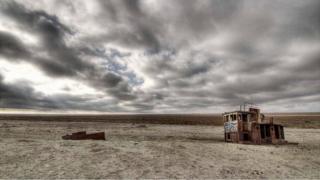 A collection of some of the best reads from the BBC News website this week, with an injection of your comments.
The Aral Sea has disappeared. Trouble began when Soviet planners wanted to turn Central Asia into the world's largest producer of cotton. But they produced so many cotton fields that at some point in the past five years the river stopped getting as far as the Aral Sea at all. We don't know when exactly this happened, because the Uzbek authorities chose not to publicise it. But we do know it's one of the world's most startling ecological calamities - the story of how cotton soaked up an entire sea.
Built-in fireworks
Much of the internet's bandwidth has been taken up this week with discussions of whether a dress is gold or blue. But Damon Rose, of the BBC News Ouch disability team, who has been blind since he was a teenager, has been discussing different visual perceptions. Far from experiencing total darkness, he says, he now sees "light... lots of it... [b]right, colourful, ever-changing, often terribly distracting, light". He's not the only one, it turns out. Many other blind people, and many sighted people too, report a similar phenomenon. One, Samantha Burnell, says on Facebook: "Other than wearing glasses to correct long sightedness my sight is fine but as yet I have not experienced darkness." In fact, she adds, "I like to leave a light on to distract from the lights and colours I see".
Do blind people really experience complete darkness?
The tanning addict
When Laura went on holiday her colleagues would always joke: "what colour are you aiming for this time?" Her reply was always mahogany. Laura was a self-confessed tanning addict. Something she regrets, since, after a hot day in the sun in Fuerteventura, she received a text message asking her to call the dermatologist who'd done a biopsy on a little red spot on the back of her leg. It was a melanoma. She now wears factor 50 sun cream under her clothes. There is no way she will ever sit out in the sun again.
Why I regret my years as a tanning addict
---
The teenage people smuggler
Rudi told us he ran out of money in Libya. He was on his way from Guinea to Europe. He pleaded with the people smugglers to take him across the sea to Italy for free but they wouldn't. The only way he could get across, they told him, was if he captained the boat himself. The smugglers taught him how to steer the wooden boat. He practised steering the boat up and down the Libyan coast and after a week the people smugglers said he was ready. Nearly 200 migrants were loaded on to his boat, having paid up to $2,000 (£1,300) each for the crossing. Their lives were in the hands of a 15-year-old boy.
The lone seven-year-olds leaving home and country behind
---
The dead body inspector
Every day Dr Simi George opens up several corpses to try and find out why they died. She is completely unflappable. Well almost. She doesn't mind maggots, decomposed bodies, urine, or poo. It's the stomach contents that get to her. But she hasn't thrown up once, not even when had morning sickness. But her profession is at threat. She says a scandal where unauthorised organs were kept has hurt the profession. There's been a dramatic fall in the number people are giving consent for their relatives' autopsies.
Here are some things we've enjoyed this week from elsewhere around the web:
How I Became A Minor Celebrity In China (After My Stolen Phone Ended Up There) - Buzzfeed
What I learned from watching a week of Russian TV - New York Times
When your father is a serial killer, forgiveness is not tidy - The Witchita Eagle
Subscribe to the BBC News Magazine's email newsletter to get articles sent to your inbox