Five ways a winter World Cup would be different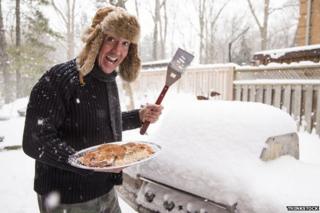 In a break with tradition, the 2022 World Cup in Qatar seems likely be held in November and December, rather than the summer. What would the knock-on effects of a winter event be for British fans of the armchair variety, asks Gareth Rubin.
1. No barbecues
If you enjoy a sausage burnt on the outside and raw on the inside, a barbecue is the perfect opportunity to indulge. Sales of burgers always rocket when a major sporting event coincides with the two months a year when it is possible to hold a party outside in the UK. They aren't so popular in the freezing winds of December. Of course, that might also mean fewer cases of food poisoning. Instead, you might be tucking into a hearty roast dinner while the final whistle blows. But according to Roger Kelsy, chief executive of the National Federation of Meat and Food Traders, some won't be put off. "Even if people are up to their neck in snow they will still have a barbecue. They will just wrap up, and instead of a cold beer in their hands they will have a mug of soup. And since it's December, you can have turkey burgers to fit in with the season," he says.
2. A lot of sickies
The "summer cold" is a pretty suspicious excuse for staying home during a crucial match. Or the day after. "Winter norovirus" is also a bit on the convenient side, but your boss might just believe you in December - and it sounds a lot more medical. And when England inevitably crash out of the quarter-finals on penalties, the gloomy evening will suit the mood perfectly. Except in Scotland where there will be cheering. "I was at school during the 2002 World Cup and we didn't see our PE teachers for a week," says Daniel Tyler, deputy editor of Shoot. "They all called in sick. People just don't want to miss a game, especially if it's a big one."
3. Last-minute Christmas gifts
There will be a host of exclamations of "Oh no, it's Christmas Eve and I've spent the month watching the footie, what on Earth can I buy my loving other?" Expect football memorabilia from the nearest supermarket. But Louise Court, editor of Cosmopolitan, says distracted fans won't get away with it. "Men who pipe up with the excuse that they forgot to buy a Christmas present because of the World Cup were always going to buy their partners a rubbish present anyway. There is no excuse," she warns.
4. A boozy party season will get even boozier
Office Christmas parties, friends' New Year's Eve parties and now World Cup parties - your local publican will be rubbing his or her hands in glee. But there will be consequences. "There will be a double whammy with the World Cup and office Christmas parties and the like meaning a danger of excessive alcohol consumption," says Don Shanker, director of the Alcohol Health Network. "People should try alternating alcoholic with non-alcoholic drinks and choosing lower strength beers or wines, that way you can drink for a longer time period without getting as drunk." Watch out for arguments about what to watch on TV, too. If the big match clashes with the Strictly Come Dancing final, a lot of couples may be going to bed without speaking. Graham Kibble-White, features editor of Total TV Guide, says: "X Factor and Strictly will be winding up then, and they are the big sporting events for people who don't watch sports, if you know what I mean - live events where you can get behind a team and cheer for them. So if they are on at the same time as a match, there are bound to be arguments in the home."
5. Sales of hoodies, not shorts
The England/Scotland/Wales/Northern Ireland team shirt might look great, but it won't be something you can wear out and about when the weather is two degrees below zero. So expect to see people in team-branded hoodies and full track suits instead. Besides, a post-match evening kick-about in the local park won't be so attractive in mid-December when you can't see your hand in front of your face, let alone the goalposts. "Maybe we'll have people walking around in team onesies and woolly hats. The teams could bring out their own range of skiwear," says Tyler.
Subscribe to the BBC News Magazine's email newsletter to get articles sent to your inbox.