Caption Challenge: Big ball of fluff and twigs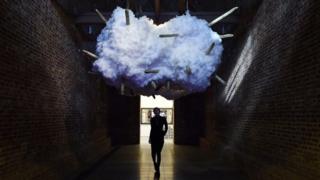 Winning entries in the Caption Challenge.
This week a woman walks below an artwork at the Serpentine Sackler Gallery in London.
Thanks to all who entered. The prize of a small amount of kudos to the following:
6. Chris Goff:
Scientific research dispels the myth that every cloud has a silver lining.
5. SkarloeyLine:
Ewe cannot be serious.
4. Anthony Vine:
"Yes...but is it blue or white?"
3. Russ Goodwin:
You can always spot posts that are stored in the cloud.
2. David Hazel:
Jemma was beginning to wish she hadn't dumped her weatherman boyfriend.
1. Rick:
Please continue through to the Belly Button exhibition.
Full rules can be seen here
[16KB]
Subscribe to the BBC News Magazine's email newsletter to get articles sent to your inbox.