Caption Challenge: Royal appointment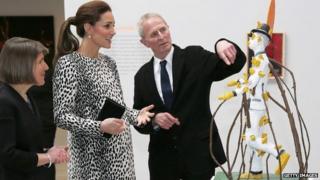 Winning entries in the Caption Challenge.
The competition is now closed.
This week the Duchess of Cambridge looks at a sculpture.
Thanks to all who entered. The prize of a small amount of kudos to the following:
6. Denton Pride:
"These are Corn Flakes. Some sponsorship requirement I think."
5. Bob McAlister:
"Alas before the onset of austerity we had hoped to purchase Michelangelo's The Boy David."
4. Adrian Wade:
"It's our Qatar World Cup kit design. Hat for the sun. Sticks prevent diving. And players get to wear their yellow cards.
3. PedroVic:
"It's called Constitutional Monarchy Ma'am - he can speak and move but only within tightly defined limits."
2. Anthony Sawyer:
"...and it also doubles up as a handy place to keep used Post-it notes."
1. Simon Tonks:
"And this is the new head of your close protection team ma'am. He's from Special Branch."
Full rules can be seen here
[16KB]
Subscribe to the BBC News Magazine's email newsletter to get articles sent to your inbox.