Weekend edition: The best of the week's reads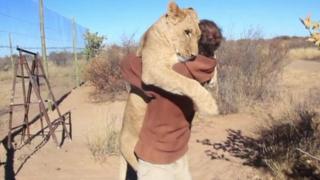 A collection of some of the best reads from the BBC News website this week, with an injection of your comments.
Lots of readers have been commenting on the short clip of Sirga the lioness rushing to hug the man who rescued her when she was a cub. When Valentin Gruener opens her cage, Sirga ecstatically throws her paws around his neck. Allan Ainsworth says on Facebook that it shows "animals know - and recognise - kindness". It reminds him of a story "where two fellas had a lion cub from Harrods". Allan recalls that the lion was rehoused in Africa. "The two guys went out some time later… It threw itself at them both in an embrace of love and fondness." Allan has remembered correctly, and in that reunion in 1972, Christian the lion reacts in a very similar way to Sirga.
Scoop of the 60s
Here's an unusual way to get a scoop: hide your camera in a bouzouki guitar. One tip though, this may only work if you're trying to get a story in the kind of place where there are actually bouzouki players. Stumped for the kind of place where there are bouzouki guitars? Try a Greek shipping magnate's yacht. That's where young Greek journalist Nico Mastorakis sneaked on to get the scoop that Jackie Kennedy was going to marry Aristotle Onassis. For Christiane Vejlo this was an insight into the early days of paparazzi work, while Joanna Williams thinks it tells us something about press freedom 40 years ago.
Catching Jackie with Aristotle Onassis
Flexi-tax
How's this for deciding what tax rate to pay. Alex Duval Smith walked into the tax office and was told, ''You have the choice between two income tax regimens, 30% or 3%, which shall it be?'' She went for 3%. And that's how they do tax in Mali. There's a logic to this. The government believes the 3% rate will attract more tax payers. At the moment they struggle to raise 1% or 2%. So this new rate represents something of an increase, she's told.
The country where you can choose your own tax rate
Slowing down
Just prior to the introduction of the 30mph speed limit in the UK, there were only around one-tenth of the cars on the road today, but four times as many associated deaths. There had been a 20mph speed limit set in 1903 but it was repealed in 1930. The spate of deaths caused a change of heart in government in 1934 and the 30mph limit was brought in. But it still has its opponents. They argue speed limits don't improve safety because drivers just focus on speedometers. Transport researcher Anna Plyushteva responds to that argument on Twitter with one word: hilarity.
How did the UK get the 30mph limit?
Forbidden fruit
Fidelity in marriage is written into French civil law. So given this, is it illegal for a dating website to promote adultery? That is the question underlying a lawsuit targeting the French company Gleeden. In Article 212 of the Civil Code, it states: "Married partners owe each other the duty of respect, fidelity, help and assistance." Meanwhile, Gleeden's advertising campaign is a woman in a wedding dress with her fingers crossed behind her back. Indeed, Gleeden says 80% of the people who use it are indeed married. On Facebook, Hilary Banks points out that this isn't a solely French phenomenon - English dating sites have an option in their "what are you looking for" section which is "married, looking for sex".
The online dating site sued for targeting married people
'World's ugliest woman'
Lizzie Velasquez was 17 when she stumbled across a YouTube video entitled "The World's Ugliest Woman". What she didn't expect was that the woman featured in the video would be her. It was an eight-second clip and had been watched over four million times. But her reaction is surprising. She started her own YouTube channel to let people know who the person behind the "World's Ugliest Woman" video really was. Tweeters were inspired by her story of triumphing over adversity. It moved tweeter Mark Oosterveen to tears.
'Online bullies called me the world's ugliest woman'
Here are some things we've enjoyed this week from elsewhere around the web:
The strange allure of Robert Durst and the Jinx - The New Yorker
The Irrationality of Alcoholics Anonymous - The Atlantic
Seventeen years later, Monica Lewinsky has taken on the culture of humiliation and won - Quartz
Subscribe to the BBC News Magazine's email newsletter to get articles sent to your inbox