Caption Challenge: Difficult jump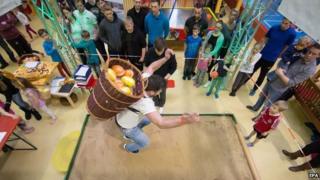 Winning entries in the Caption Challenge.
The competition is now closed.
This week a man in Germany jumps with a basket full of Easter eggs.
Thanks to all who entered. The prize of a small amount of kudos to the following:
6. Stuart:
"Quicksand...you could have told me before I jumped!"
5. Lelystad:
"They must be Eggs Benedict - he's cumbered with a batch."
4. Davy Grant:
Government unveils food bank delivery service.
3. Adrian Wade:
Floor-Sprung-Duck-Technik.
2. Jenny:
"Look mum, no hens!"
1. Alex Cunningham:
MoD tests reveal major flaws in new parachute design.
Full rules can be seen here
[16KB]
Winning entries from last week's competition can be seen here
Subscribe to the BBC News Magazine's email newsletter to get articles sent to your inbox.