Caption Challenge: Dinosaur hang-out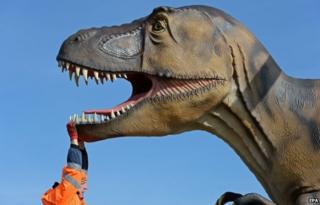 Winning entries in the Caption Challenge.
The competition is now closed.
This week, a man pulls the lower jaw of a life-size dinosaur model.
Thanks to all who entered. The prize of a small amount of kudos to the following:
6. Chris Goff:
Jurassic Park and Ride.
5. Chris Longhorn:
"Open wide and say... RAAAARRRRGH!!!"
4. Martin Whitehead:
"OK, OK, I'll clean your teeth in a minute, but could you just scratch my right armpit first, please?"
3. Lelystad:
In his panic, Brian added a few new words to the Thesaurus.
2. Celia Crossley:
"Next time you can floss yourself."
1. Helen Armstrong:
"No, seriously, it's the best fingernail trim I've ever had."
Full rules can be seen here
[16KB]
Subscribe to the BBC News Magazine's email newsletter to get articles sent to your inbox.