Caption Challenge: Punk mannequins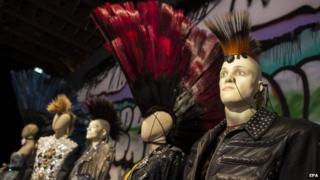 Winning entries in the Caption Challenge.
The competition is now closed.
This week it's a display of Jean-Paul Gaultier designs in Paris.
Thanks to all who entered. The prize of a small amount of kudos to the following:
6. Chris Hutchison:
The decision by Channel 4 to run an alternative Big 7 debate was bound to run into trouble.
5. Andy Carnie:
The Sex Pistols call an emergency press conference to deny excessive Botox use.
4. Chris Rayner:
"Are these the Downton Abbey auditions?"
3. Graham Valentine:
Kevin was literally crestfallen when he spotted the guy next to him.
2. Leo:
"It's so much more than a fashion statement darling; it's an expression of individuality, or the inner me, my essence so to speak. Styrofoam."
1. Nigel Macarthur:
"Are you sure you've got the hang of identification parades, sarge?"
Full rules can be seen here
[16KB]
Subscribe to the BBC News Magazine's email newsletter to get articles sent to your inbox.