Caption Challenge: One unhappy dog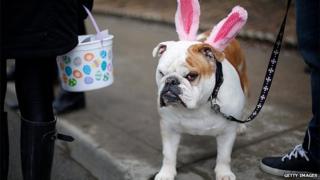 Winning entries in the Caption Challenge.
The competition is now closed.
This week it's Beaches the dog watching the annual beaches Easter parade in Toronto.
Thanks to all who entered. The prize of a small amount of kudos to the following:
6. Howard Gardiner:
"Easter Bunny. I am your father."
5. Graham Valentine:
Doggie Darko.
4. Kate Sims:
"I didn't even get to eat the bunny."
3. Lin Vegas:
"Here, Playboy!"
2. Ocean Lynagh:
Hare of the dog.
1. Billy Moneypenny:
"I'm not a happy bunny."
Full rules can be seen here
[16KB]
Subscribe to the BBC News Magazine's email newsletter to get articles sent to your inbox.